In addition to being able to create, edit, and add contacts directly into your Contacts section, it is also possible to import contacts via a .csv or .txt file in the UTF-8 (Unicode) format. 
The CSV file's data should be organised as in the following example:
"First Name","Middle Name","Last Name","Birthday","Notes","E-mail Address","E-mail 2 Address","E-mail 3 Address","Primary Phone","Home Phone","Home Phone 2","Mobile Phone","Home Address","Company Main Phone","Business Phone","Business Phone 2","Assistant's Phone","Company","Job Title","Business Address","Other Phone","Other Address","Car Phone","Radio Phone", "John","JR","Smith",01/01/70,"Sample Contact","mr_smith@domain.tld","jsmith@job.tld",,"+442036031690",,,,"High Street. 3, SW10 9WT London",,,,,"Smith & Sons Ltd","Director",,,,,
Most programs such as Excel will allow you to save your contacts as a CSV file. Most times the file will automatically save in the UTF-8, plain text format. However, once your file has been saved, it might be necessary to ensure the file is in this format. 
To ensure your file is correctly saved as a .csv or .txt file in the UTF-8 format, please use these guides for Mac OS and Windows.
How to Import Your Contacts File 
1. Once your file is ready to be imported, please login to your sipgate account and go to your Contacts section. Then click Import:

 2. Please then select how you'd like to import your contacts. For a .csv or txt file, please click Upload CSV file: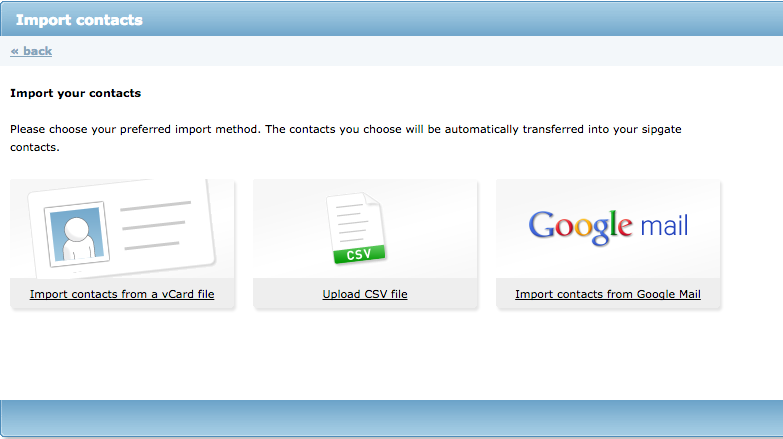 3. Once there you'll be asked to select the file and decide if the contacts should be Private (only for your User profile) or Shared (for all Users).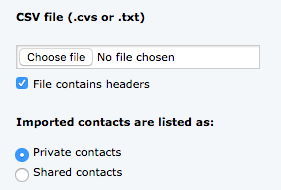 4. Once selected, please click: 

5. Once the file has been uploaded, you'll be asked to map the data and apply: