To Assign phone or extension numbers to a User:
Click on My Settings.
Select the Phone tab.
Click on the + Phone Numbers or + Extension button:

A pop up box will appear which will allow you to choose the phone or extension number to assign to the User: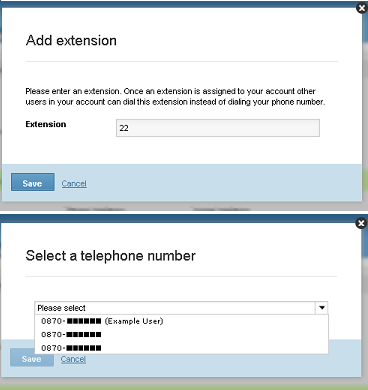 Your outbound Caller ID can be setup by under Phone --> Caller ID
Important: If you select a phone number that's already assigned to a User or Group phone, the phone number will be removed from that User/Group and assigned to your User's numbers.
Special Routing:
Using standard call routing, when a User's phone or extension number(s) are called all of the User's phone will ring.
With special routing a User can choose which of their phones will ring baased on the extension or phone number that was called.
In order to set up special routing please use the following instructions:

Click Edit routing in the green field below your list of phones:

An overview will be displayed where you can edit your routing for your phone numbers, extensions and group numbers.

When special routing is active the green field will turn red: