To call one of your
Contacts
,
open the contact and click on Call: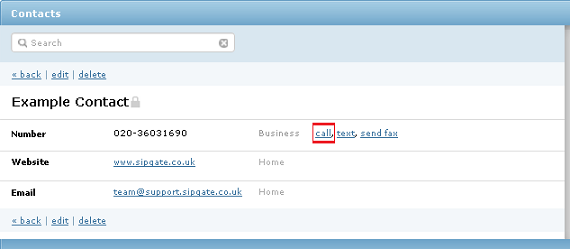 You can also start a phone call from your account by clicking the Call button at the top of the navigation bar.
With the Call button, calls can be made from one of your connected VoIP phones or from an external device of your choice:
Call number: Enter the number you wish to call.
With the device: choose which phone the call will be made with
Your phone will then ring. When you answer your phone, the phone number you entered under Call number will be called.
Or select an entry in your Event List and click the blue Call button.
No matter how you initiate a call (via Contacts, Event List, etc.), you will be asked to choose which device you'd like to use to call that number.