In your team account's My sipgate you can see if a colleague's extension number is busy on a call. 
To the left of your My sipgate event list, the Internal speed dial list can be used to start a call to a colleague's sipgate extension.
If an extension is already on a call a red telephone will be displayed instead of the extension number.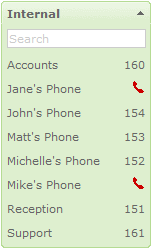 You can still start a call to a busy extension.
Important: The feature is still in beta phase. Therefore, we can not guarantee that it is always available at the moment.