To Assign phone or extension numbers to a User:
Click on My Settings.
Select the Phone tab.
Click on the + Phone Numbers or + Extension button:

A pop up box will appear which will allow you to choose the phone or extension number to assign to the User: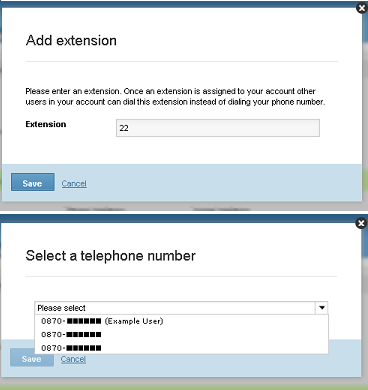 Your outbound Caller ID can be setup by under Phone --> Caller ID
Important: If you select a phone number that's already assigned to a User or Group phone, the phone number will be removed from that User/Group and assigned to your User's numbers.
Special Routing:
Standard call routing: all of the User's available phones will ring on incoming calls.
Special routing: Users can choose which of their phones will ring based on the extension or phone number that was called.
To set up special routing:

Click Edit routing in the green field below your list of phones:

In the pop-up menu you can edit your routing for your phone numbers, extensions and group numbers.

When special routing is active the green field will turn red: